Help Extend Our Winning Streak – Best of the Desert 2023!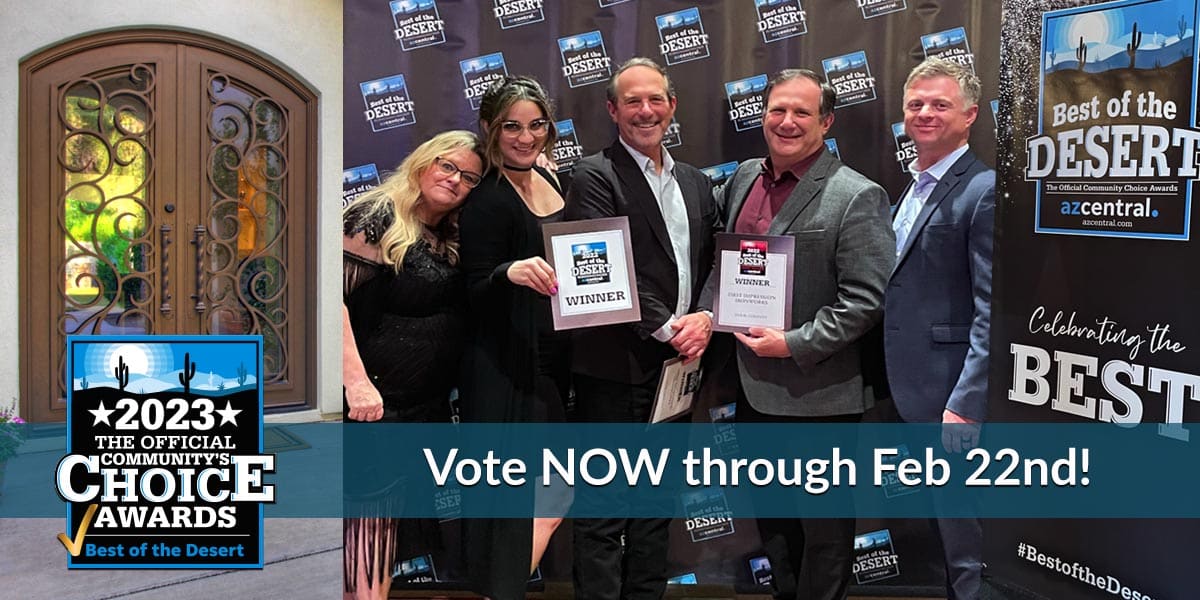 We did it again! For the 3rd year in a row, we've been nominated as the Best Door Company in AZ Central's 2023 Community's Choice – Best of the Desert awards!

So, THANK YOU for making us the top award winner for the past two years.

Can we count on your vote? Simply click on this link Best of the Desert. On that page, select either West Valley or the East Valley of Phoenix. Then choose the category Home & Home Services and finally pick DOOR COMPANY. Here's where YOUR ENTER our name "First Impression Ironworks" for your vote. Or if you're so inclined (and we hope that you are) you may vote for us in both regions at this very same link.
Your votes will be accepted through February 22nd. Whoever gets the most nominating votes in each category will advance to the finalist voting round taking place in April.
Thank you once again for all your support.
---
The Best of Houzz 2022 Customer Service Award
Winning awards never gets old! First Impression Ironworks has AGAIN won the "Best of Houzz" award for Customer Service for the 7th year. We were chosen by the Houzz community of more than 2.7 million active homeowners, as well as home building, remodeling, and design industry professionals.
This is the 10-year anniversary of the Best of Houzz awards program, and these honors are awarded annually. Houzz Customer Service honors are based on several factors, including the recipient's rating on Houzz and client reviews submitted in 2021.
Houzz is the leading online platform for home renovation and design. The Houzz Customer Service honors are based on a combination of the recipient's overall rating on Houzz as well as client reviews submitted throughout the previous year.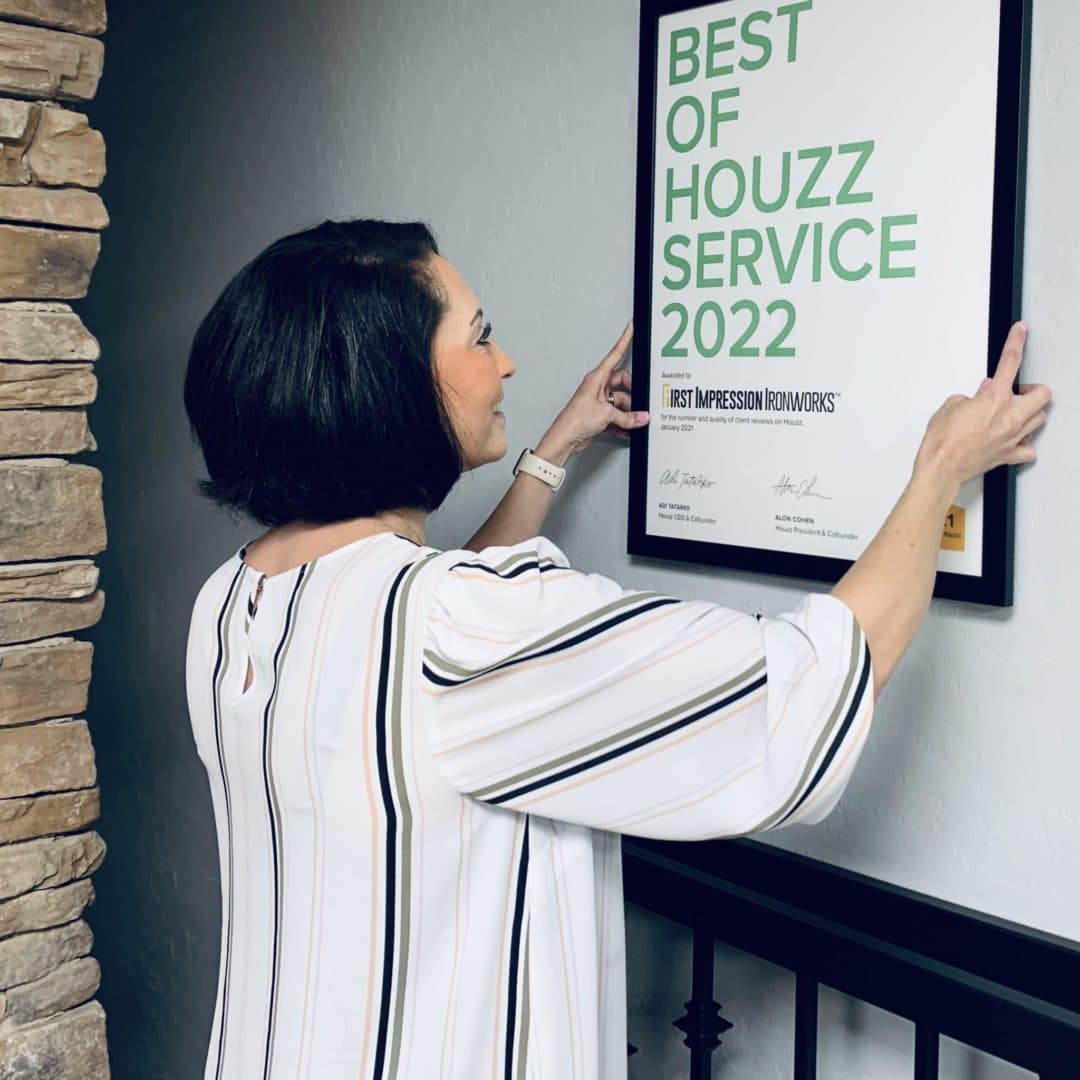 "When a homeowner invites us into their home, we consider that a privilege",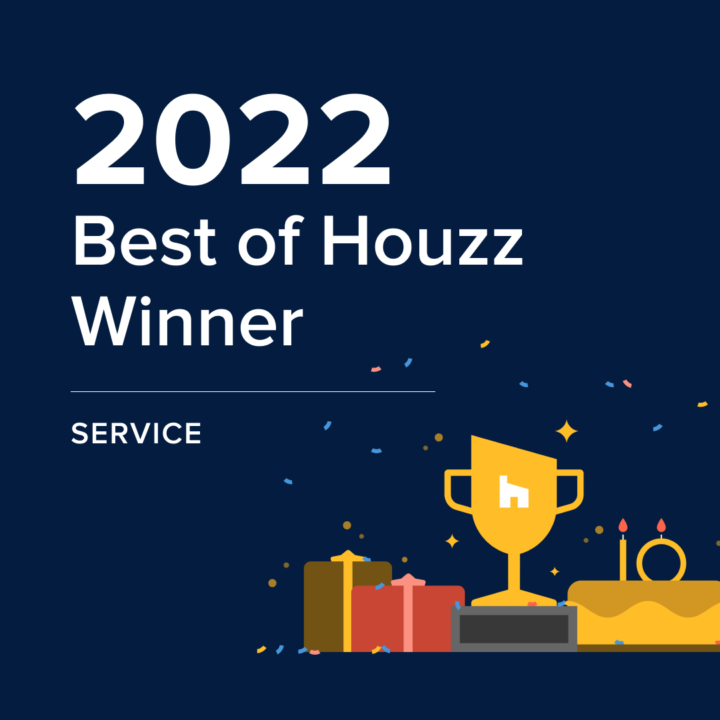 says Shannon Peterson, Director of Customer Care at First Impression Ironworks.
"At every step in the process – from design quote to project management and then to actual installation – we treat every homeowner like they were our friends or family."
First Impression Ironworks is America's premier designer, manufacturer and installer of custom Iron Security Doors, Iron Entry Doors and Iron & Wood Gates. Each product is crafted for your home from the highest quality USA sourced materials available – always 100% American-made steel. Our custom designs add security and beauty to your home. We offer free design consultations and comprehensive quotes to every homeowner.
Let us bring the showroom to you! Take a look at all our designs in the comfort of your own home. Call us at 833-228-4438 or fill out the form on our website to schedule your free in-home design consultation and quote.
---
2021 Better Business Bureau Torch Awards for Ethics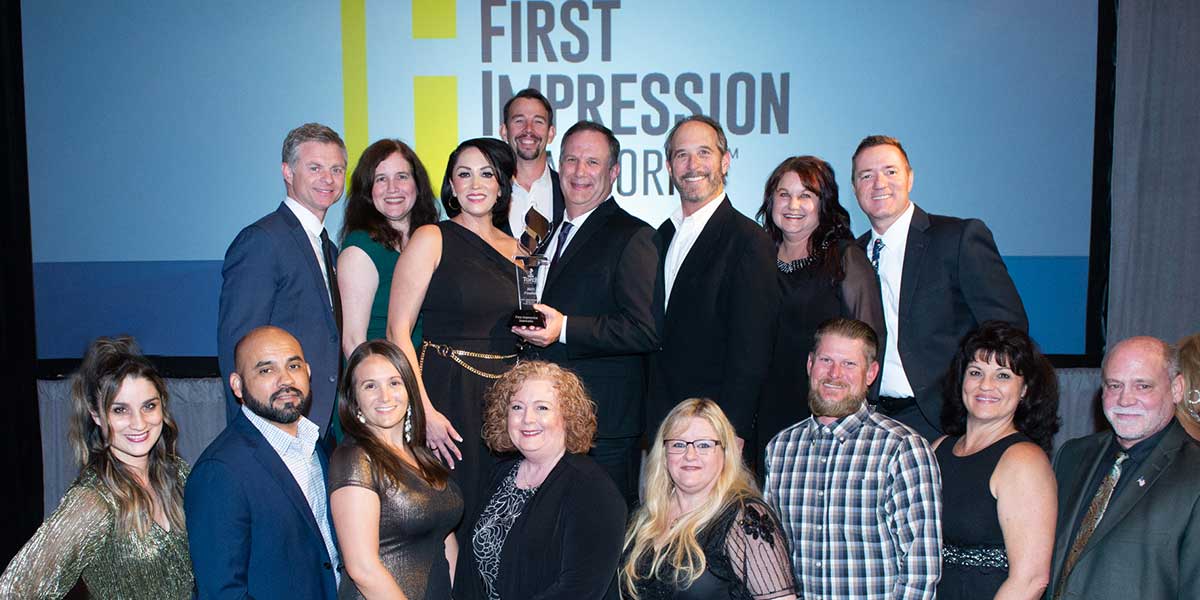 FIRST IMPRESSION IRONWORKS has been named as a Finalist for the coveted BBB 2021 Torch Awards for Ethics, awarded by the Better Business Bureau. This award is based on our ethical business practices for over 25 years, and to our proven commitment to the values our customers and employees expect of us. We have an unwavering dedication to the customer experience in everything we do. Thank you to the Better Business Bureau serving the Pacific Southwest for this great honor.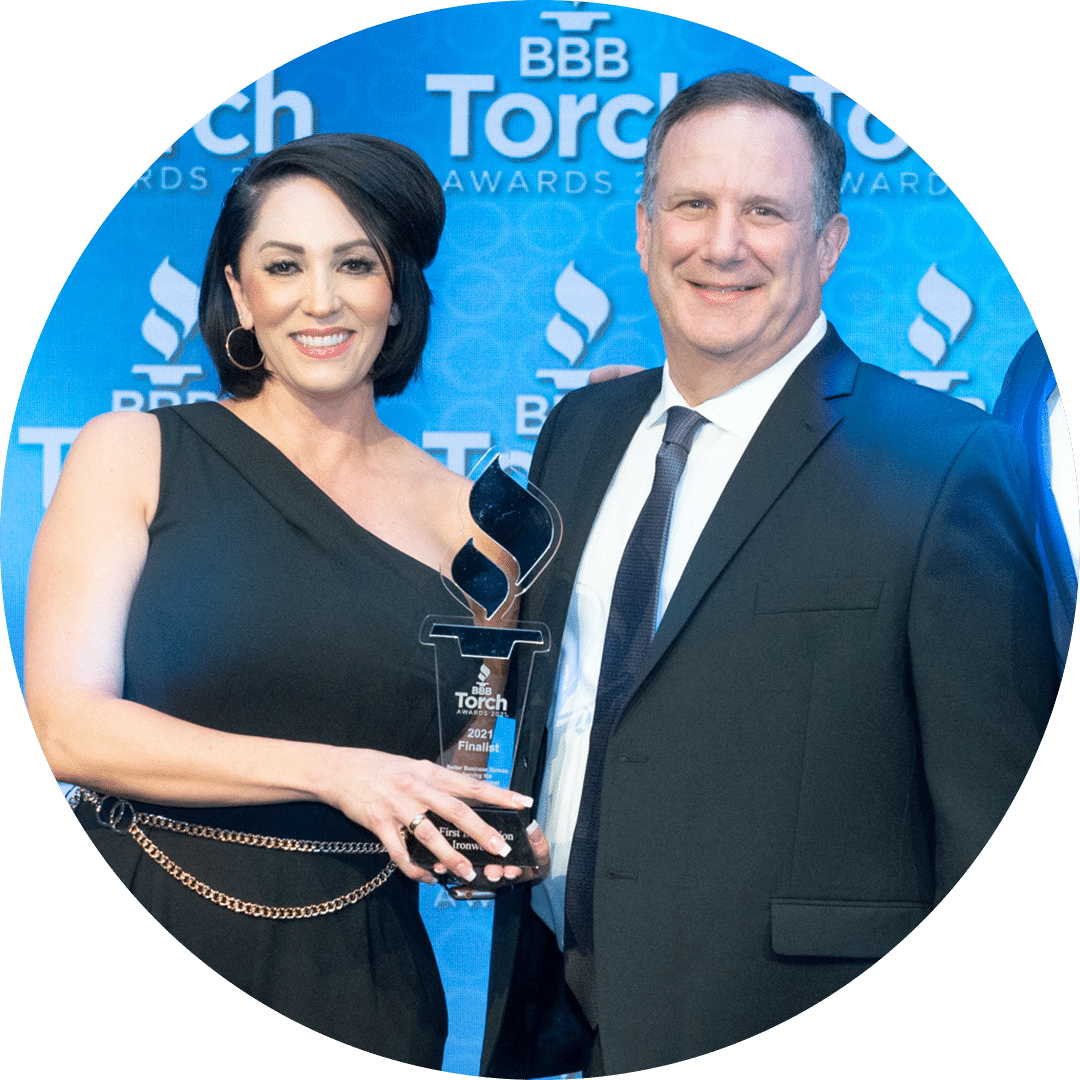 "It's an honor for First Impression Ironworks to be recognized by the Better Business Bureau for upholding the ethical standards that have been guiding our business for over 25 years", said Mark Baraghimian, CEO. "Doing the right thing – ALWAYS – is how we treat each other in the FII organization. It's also how we treat each and every one of our customers."
Taking exceptional care of our customers is a big deal for us, including building and installing only 100% American made steel products. We are, in fact, the industry leader in ornamental iron doors and gates in the U.S. Where other companies come and go, we've perfected the art of excellent customer service with over 250,000 iron doors and gates installed for Arizona homeowners.
Ready to experience the First Impression Ironworks commitment to quality, care, and beauty of our ironwork products yourself? We'll come to your home for a free design consultation! Call us at 833-683-4835. Or fill out a form on our website to schedule your free in-home design consultation and quote.
---
2021 Best of the Desert – Home Services – Door Company

We're excited to announce that First Impression Ironworks has won the "2021 Best of the Desert – Home Services" award for Door Companies. The award celebrates the best that our local Phoenix community has to offer. Although The Arizona Republic and AZ Central are the hosts of the awards, all the votes were cast by the residents and homeowners here in the Phoenix area. 113,000 homeowners voted during the spring of 2021 in three distinct geographic zones: Central, East, and West regions of Phoenix. First Impression Ironworks won all three zones.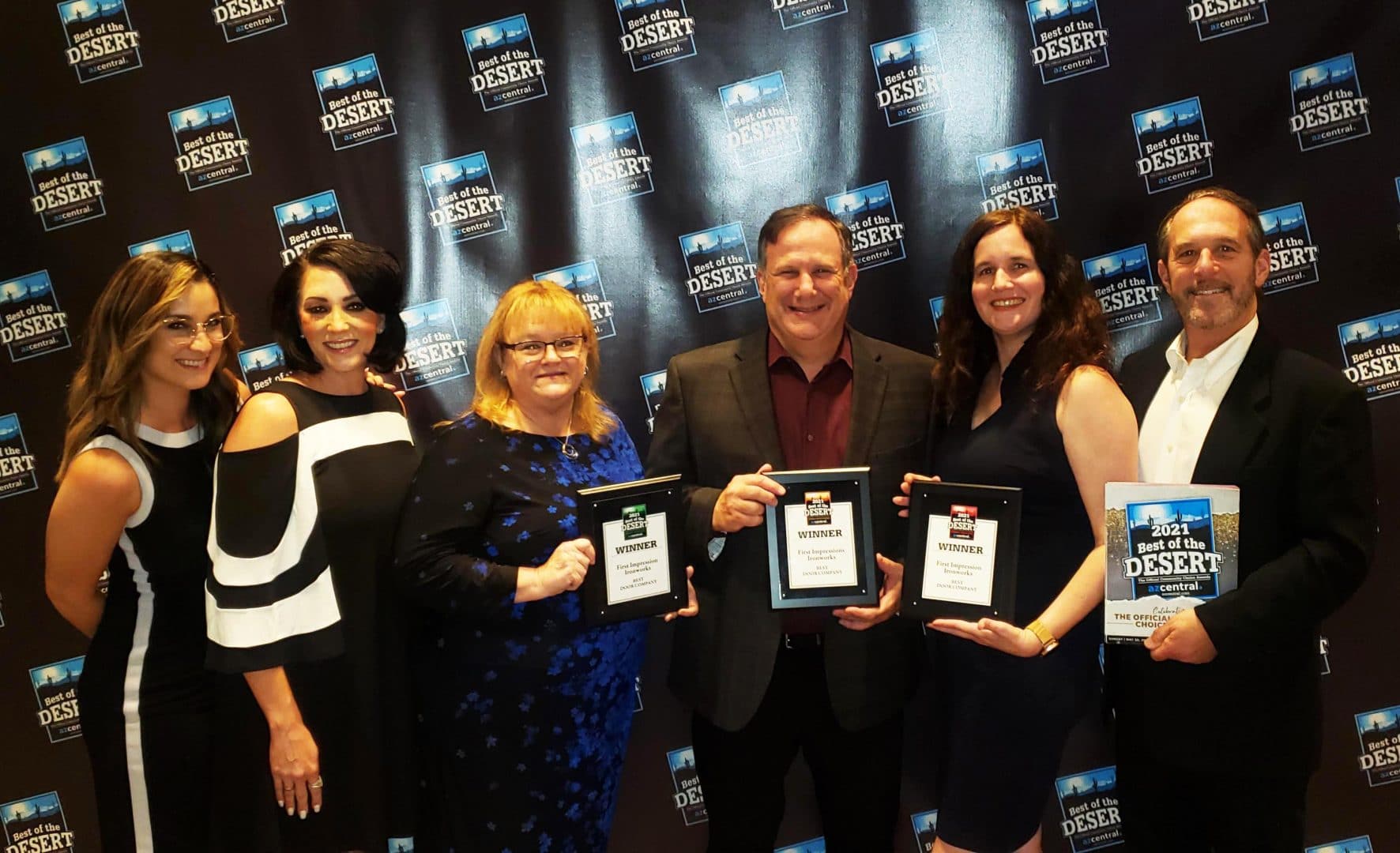 "Working directly with Arizona homeowners to design custom iron doors or gates for their homes is really quite amazing" says Jennifer Pittman, Director of Sales at First Impression. "Helping bring someone's vision into reality, and then seeing how excited they are once the doors are installed is really the best part of my job."
Since 1996, we've been the leader in high quality 100% American-made custom iron doors and gates for homeowners throughout Arizona. Over that time, we have generated a high level of trust among our employees, our customers, and our community at large. Our quality comes from keeping our business close to home by hand crafting custom iron products right here in our Gilbert, Arizona facility. Our talented team of designers, iron artisans and installers work together to provide Arizona homeowners with a customized experience for every unique home.
We take pride in being the industry leader, creating custom ironwork that is often imitated, but never replicated. Call us at 833-228-4438 or fill out the form on our website to schedule your free in-home design consultation and quote.